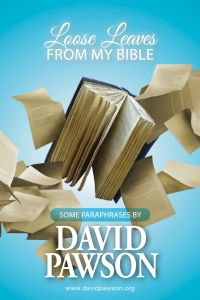 Loose Leaves from My Bible
| | |
| --- | --- |
| Author | |
| Availability | In Stock |
| Product Code | ARB.005 |
| ISBN | 978 1 909886 55 1 |
| Postage Points | 1 |
| Length | 76 pages |
The author writes: "I prepared these extracts for others, but I was greatly blessed myself. Somehow, as I put God's word into my words, it became part of me in a fresh way."
David Pawson has been teaching others the Bible for many years. Often, during this time, when wanting to communicate God's truth more effectively and to breathe fresh life into familiar scripture verses, he would paraphrase passages of the Bible into colloquial English.

Loose Leaves From My Bible contains a selection of David Pawson's most popular paraphrases, with notes about their origin.

Passages from Genesis, The Psalms, Ecclesiastes, Habakkuk, Luke and John are included, together with the complete books of Jude and Galatians.