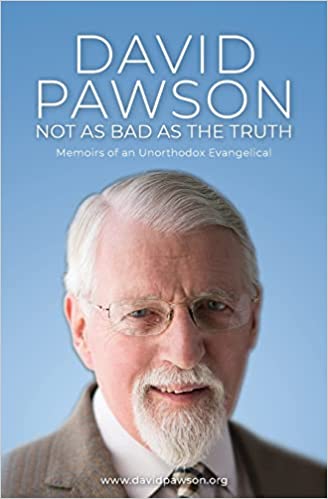 Not As Bad As The Truth
| | |
| --- | --- |
| Author | |
| Availability | In Stock |
| Product Code | ARB.059 |
| ISBN | 978-1913472351 |
| Postage Points | 2 |
| Length | 276 pages |


David Pawson is one of the Church's most highly regarded leaders and provocative teachers of the last thirty years. As both pastor and preacher he has developed a reputation for prophetic biblical insight, clarity of expression and uncompromising but living challenge to Christian hearts and minds.
Describing himself as an unorthodox evangelical, he has remained faithful to his own vow to be honest with God's word as revealed in the Bible, no matter what the cost or consequence '

'Not As Bad As The Truth' is David's typically honest, fresh, lucid account of his life and teaching. It recalls the influences and formative moments of his childhood, upbringing and early ministry, and concludes with a portrait of the less familiar man behind the teaching - David's travels, hobbies and interests and the joys and challenge of life. But perhaps this book's greatest legacy will be its summaries of the author's most urgent and significant theology and his fascinating account of the styles and techniques of preaching.

With never a dull sentence, this book will be appreciated by all whose lives have been touched by David Pawson over a half-century of ministry.