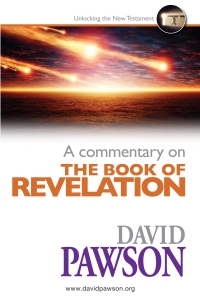 A Commentary on the book of REVELATION
| | |
| --- | --- |
| Author | |
| Availability | In Stock |
| Product Code | ARB.071 |
| ISBN | 978 1 909886 25 4 |
| Postage Points | 3 |
| Length | 250 pages |


As a history book the Bible is unique, telling us about the future as well as the past. To become obsessed with either is to evade life's challenges. Both perspectives are needed to live 'over the circumstances' of the present.
The book of Revelation focuses on the future and can produce two reactions among Christians - some cannot get into it and others cannot get out of it!! We need a more balanced view of its significance. After all, it is the only book in the whole Bible to which God has attached a special blessing and an awful curse.
It was written for ordinary people under extraordinary pressure. Suffering is the key to its understanding. It is a manual for martyrdom.
As history draws to a close, all Christians need its message of warning and encouragement.
Click
here
to purchase the Romanian edition.
Apasa
aici
pentru a cumpara editia romaneasca
Alte carti de David Pawson