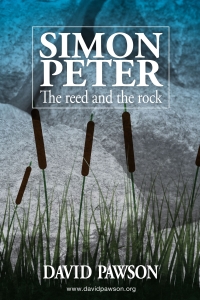 SIMON PETER: The Reed and the Rock
| | |
| --- | --- |
| Author | |
| Availability | In Stock |
| Product Code | ARB.094 |
| ISBN | 978 1 909886 23 0 |
| Postage Points | 3 |
| Length | 300 pages |
Turning water into wine took Jesus a few minutes. Changing a reed (which 'Simon' means) into a rock ('Peter') took quite a few years. Which is the greater miracle, transmuting nature or transforming human nature?

Many identify with Simon Peter's weaknesses, not least his knack of opening his mouth and putting his foot in it! On one occasion he even swore that he didn't know his best friend, just to save his own skin.

Jesus taught this fisherman how to catch more fish, then how to catch people. He used that unruly tongue to preach the good news of his death and resurrection for the very first time, netting thousands for the kingdom of God.

In this book David Pawson draws some unexpected lessons from Peter's failures and successes for both our individual and corporate lives as part of the Church of which Peter was the original pastor.